Update Frequency:
Monthly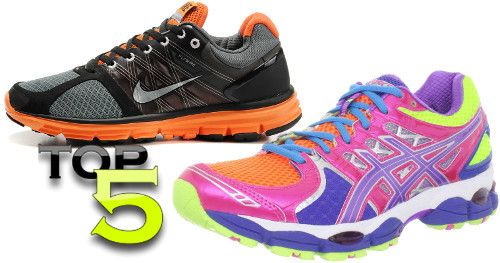 A Runner is no stranger to Plantar Fasciitis and heel spurs. I hope you are among those lucky few who are blessed with no foot problems. If you really love running, the pain can take away your happiness. Whether you are a runner or not, Plantar Fasciitis can follow you everywhere.
Top 5 Running Shoes That Keep The Pain Away
What exactly can you do to keep the pain under control if your regular running shoes aren't helping much? Well, you got it right. Get a pair of good quality running shoes specially made for Plantar Fasciitis.
Cutting to the chase, I have compiled a list of best running shoes for plantar fasciitis here. I have listed only those shoes which give immediate comfort during foot pain. These shoes have been rated very high and enjoy huge reputation among thousands of runners suffering from plantar fasciitis. So these shoes don't just make my top 5 list, but also for those who "share" your pain.
That counts as a crucial factor if you have a passion for running or outdoors.
For each pair of shoes on my list, I am giving:
a brief review of the shoe with key features

suitable foot type (e.g. overpronator) related to the shoe

pros and cons about it's features and benefits

a direct link to the shoe
Jump Ahead:
1. Best Running Shoes for Plantar Fasciitis for Women
2. Best Running Shoes for Plantar Fasciitis for Men
Let me throw a caution here. I know athletes/runners prefer to wear orthotic shoe inserts to reduce the pain. Now for runners, that's definitely not a good option because the insoles are more likely to move inside during running. That is, assuming they remain stable during walk. If the insert doesn't stay where it's supposed to, it will do more harm than good.
It's not too difficult to see when it comes to comforting your heel and arch, inserts for plantar fasciitis are no match to running shoes. But the catch here is to get the right pair of running shoes.
Your podiatrist will generally advise that you rest your feet and don't do much intensive activities like running or brisk walking. This warning is generally issued irrespective of how old or new your foot pain is.
When you take a decision to run with your uncomfortable foot, you must atleast get proper support that your aching foot needs. It's vital that you get proper running shoes to make your feet comfortable.
So how do you recognize good running shoes for plantar fasciitis and how are they different from normal running shoes? What's the difference between normal running shoes and running shoes specially made for plantar fasciitis?
Here is a good picture that shows the basic difference.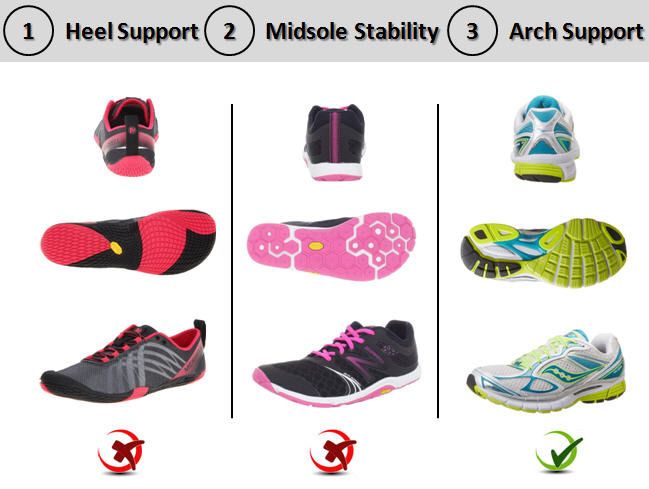 Basic features that good running shoes for plantar fasciitis must have:
Highly comfortable back with extra cushion to support your heel for extra comfort. This keeps the heel stable and safe from rigorous movements

Excellent shock absorption at the back to avoid further damage to heel when the running foot strikes the ground. This is needed to disperse the pressure

on the heel due to the impact of striking the ground

Running shoes for plantar fasciitis should have highly flexible toe-box and robust heel counters so that right angle is always maintained by your arch

The purpose of the above 3 requirements is to ensure that the shoe bends nicely at the front but remains rock solid and rigid at the rear to keep your heel safe
Please remember that regular "good running shoes" do provide a balance of above features. But if you are looking for running shoes to support your arch, you are not looking for balance but a rigid back and flexible front.
This is not easy to manufacture that's why it's critical to select only proven and tested shoes.
Seriously, did you know the above safety requirements for your running feet when you visited shoe stores before?
You must always look for the above features in running shoes for scar tissue or plantar fasciitis.
I want to make a personal comment here. When I went to buy my running shoes during plantar pain, I had to make a choice between "most beautiful shoes" versus "most comfortable shoes". Trust me, later option is better choice anyday, anytime. You will buy more "beautiful" shoes in the future but your feet should be able to enjoy that too !
Personal Tip: When you are in doubt (above), think about the pain in your heel and your doubt will vanish!
This time you don't have to do all the investigation as I have already done that for you. I have compiled the list of best running shoes for plantar fasciitis for you.
Which Running shoes fit your condition?
Supination with High Arches: You need to focus on shoes that provide strong control over the movement and hold your arch tightly
Overpronation with Flat Feet: If you have flat feet, which is the condition of overpronation, you need to ensure that the shoe gives superb arch support with the inner side of shoe sole being rigid and soft extra cushion at the heel
Exhausted plantar fascia and overweight: You must go for shoes with excellent cushioning at the feet with maximum possible support. The top priority for you here is maximum comfort at the heel.
Last Updated:
Best Running Shoes for Plantar Faciitis

Women
#1 ASICS Women's GEL-Kayano 20 Running Shoe
»Click Here for Customer Reviews & Current Price »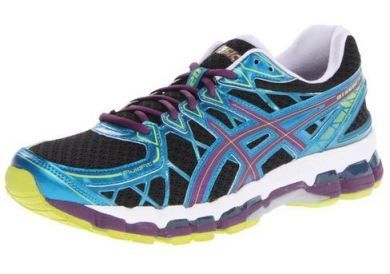 For sure, ASICS GEL-Kayano 20 is out there at #1 spot for a definite reason. It's not just me, but more than 1500 customer reviews (just on Amazon!) stating just one fact: if you have foot problem and wanna run, this deserves your attention. The best advantage with this shoe is it's stunning looks with super comfortable heel support. The extra cushioning provided around the heel is the highlight of this shoe
Pros:
stunning looks with great cushioning at back

extremely light weight yet provides solid support

available in 9 color combinations

more than 1500 positive customer reviews

great inbuilt mechanics to support running with heel pain
Cons:
difficult to find, 2% customer reviews find toe box not so good though I don't quite agree

not many warm color designs
Foot type: normal to overpronation
Fit: As you prefer
---
#2 Brooks Women's Adrenaline GTS 14 Running Shoe
»Click Here for Customer Reviews & Current Price »
This pair of Brooks shoes is best at providing arch support which makes it as good a choice as anything else when it's about Plantar Fasciitis running shoes. This Adrenalin GTS 14 has been editor's choice of various Running and sports magazines when it comes to providing top-notch quality support to arch. When it comes to providing cushioning and support, this pair wins hands down.
Pros:
Best comfort and support to arch

Very rigid back side, providing best support during running

Comfortable toe-box

Fairly light weight
Cons:
No color options

slighty more costly
Foot type: overpronation
Fit: As you prefer
---
Best Running Shoes for Plantar Faciitis for

Men
#1 ASICS Men's Kinsei 4 Running Shoe
»Click Here for Customer Reviews & Current Price »
Asics is a major sports brand and this pair of shoes is a brand flagship carrier. These are not the cheapest shoes around and that is not without a reason. The shoe delivers value for every dollar spent when one uses it. It comes with what Asics calls The Heel Fit Technology which has a special featured memory foam than can automatically adjust to the heel. This makes it possible to give extra support and cushioning. The stretchable material used inside allows the shoe to nicely fit, giving it custom made quality.
Pros:
A premium product with top notch quality finish

The Heel Fit Technology makes the cushion to adjust to your specific heel size

High quality extra cushioning and support for plantar fasciitus

Breakthrough technology used in making the stretchable material inside, giving you high level of comfort
Cons:
could be called expensive

lack of color choice
Foot Type: neutral to overpronation, high arches
Fit: As your choice
---
#2 Asics GEL Nimbus 15 Running Shoe
»Click Here for Customer Reviews & Current Price »
Asics is a world renowned comany when it comes to making best quality athletic shoes. The GEL Nimbus 15 is relatively new product which has created enough ripples among athletes and sport persons. This pair of shoes greatly enhances the heel support with it's superior class cushioning. The stability and fit that comes with this shoe is it's top benefit.
Pros:
One of the best shock absorbing technology (

FluidRide midsole)

in running shoes , fits plantar fasciitis requirements perfectly

Sports state of the art grip as well as perfect arch support

comes with 6 color choices
Cons:
some people find the colors gaudy, though it's dark colors are loved my most reviewers

average weight, though still on ligher side
Foot type: neutral to overpronation
Fit: As your preference
---
#3 Asics GT2000 2 Running Shoe
»Click Here for Customer Reviews & Current Price »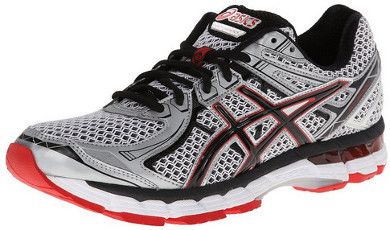 The Asics GT-2170 has been widely acclaimed as flagship product of Asics and had earned years of impeccable record in popularity among athletes and runners as best shoes for foot problems. The new Asics GT2000 2 is new kid in the block with same "genes". This latest Asics model excels not only in meeting the same functonality as it's predecessor, but also comes with lighter design. This shoe has state of the art stability and comfort for the heel and arch.
Pros:
Highly reputed and functional design

cushioning using latest technology, means highest comfort for foot

Superb shock absorbing design

feels very light
Cons:
many people don't like extra flexibility at the front

one can find it a tittle too snug
Foot Type: neutral, exhausted plantar fasciitis
Fit: As you prefer
---
Note: These shoes are the best available in market, backed up by high ratings from customers. However these shoes can only be a support for foot problems, not a cure or solution. They help us reduce the pain while we are outdoors, running.
If you want to get rid of plantar fasciitis once and for all, I recommend two actions :-
1. Grab this FREE REPORT (15 pages) on Plantar Fasciitis treatments here. It's written in simple English and gives a clear guidance about how to treat Plantar Fasciitis without taking any risk
2. If you do not have time to read the 15 page report, you can look at The 5-Minute Plantar Fasciitis Solution (on Amazon).
Tweet
Related Articles:
Plantar Fasciitis Treatment - ALL NATURAL
Top 5 Plantar Fasciitis Shoes
Buying Guide: Plantar Fasciitis Shoes, sneakers
Night Splints for Plantar Fasciitis
Top 7 Plantar Fasciitis Socks and Sleeves
Reviewed: Best Plantar Fasciitis Insoles and Orthotic Inserts